We're over a month into the New Year, and that means the majority of us have already given up on our New Year's resolution to get fit. Between the excuses we tell ourselves and a lack of time, it's no wonder we aren't sticking to our healthy eating habits and gym schedule like we had intended. The good news is, there's still plenty of time left in the new year to get back on track and start turning our resolutions into healthy habits. One of the best ways to do that is to make your workouts more fun; our suggestions will help get you started.
1. Go Hiking
hiking is that the scenery is so amazing you often forget that you're exercising. No matter the time of year, nature puts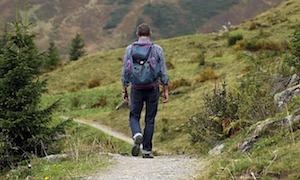 on a wonderful show for you: icy waterfalls and beautiful frost-covered trees in winter, budding trees and pops of color in spring, lush foliage and bright flowers in summer, and the burning hues of fall create some of the most amazing art on the planet. If you're lucky, you'll see some wildlife and hear some tantalizing bird songs. If you hike alone, you can enjoy the quiet solitude and the chance to unplug. Or, you can listen to your favorite music while enjoying the sights of the mountains. On the other hand, if you hike with friends, you'll have the chance to walk and talk and laugh without the distractions of normal life. Either way, hiking is a fun exercise that doesn't feel like exercise.
2. Work Out with Your Dog
Human friends aren't the only ones you can have fun including in your workouts. Your dog makes a great workout partner; he's always ready to play, he never complains, and he won't judge if you're huffing and puffing while getting fit. You can take your dog hiking, running, jogging, or biking. And, if your dog likes water, he'd be a fun addition to your kayaking trips.
Another option is to find a workout class that includes physical training for you and obedience training for your four-legged friend. The workouts are designed to give you a better workout than you get just walking your dog, and they encourage your dog to follow commands and have fun doing activities designed just for him.
3. Play with Your Children
If you watch your kids play and marvel at their energy, get up and start moving with them. Play catch, jump rope, ride bikes, jump on the trampoline, play tag – the possibilities for exercising by playing with your children nearly are endless. If the weather is poor, play dodgeball in your basement or tag in your living room., or pay hot potato with a beanbag. When the weather is nice, start organizing backyard games of capture the flag, badminton, or volleyball. Put up a basketball hoop in your driveway. Bike to a friend's house and have a large game of water balloon fight.
If you don't have kids, volunteer at Big Brothers, Big Sisters or the local YMCA and get involved in intramural sports. You'll be helping kids who need role models, and they'll be helping you feel like a kid again while you get fit.
4. Join a Team
If you don't think you'll keep up with the backyard games because they don't have a schedule you need to follow for accountability, join a team. Communities often have volleyball leagues, bowling leagues, tennis leagues, softball and baseball leagues, and golf teams. Call your YMCA for information, look for groups online, or put out a call for interested people on social media and form your own league. Joining a team will help you make time to work out because you'll be accountable to your teammates and schedule practices and scrimmages.
5. Dive In
Swimming isn't only for warm weather. If there's a local indoor pool in your area, consider getting a membership and take advantage of the benefits of working out in the water. Whether you opt to swim laps or get a group together for a water sport, swimming-based workouts are great cardio and strengthen and elongate muscles, all while going easy on your joints. Being in the water can also be calming and is a nice change of pace if you spend the rest of your week running or working out in the gym.
Your workouts will be as boring or as fun as you make them. Give yourself a chance to meet your New Year's resolution and develop healthy habits by choosing fun ways to start exercising and remaining active throughout the week. Soon, you'll be one of the few who successfully sticks to their resolution.
Image via Pixabay by Hermann