Black Maca Root Powder, Certified Organic, Fair Trade, GMO-Free, Vegan and Raw 1 kg (2.2 lb - 35 oz)
1 kg = 80 Servings @ 3t (12 g) daily - Our Best Value!
Our Black Maca Root Powder is carefully and consciously grown, processed and handled. It comes from an organic farming cooperative in and around Junin, Peru. We work only with producers who own and manage their lands at a local grass roots level. The cooperative of farmers is committed both to organic farming and to producing the highest quality maca products available anywhere. We're very happy to support their work.
Specifications: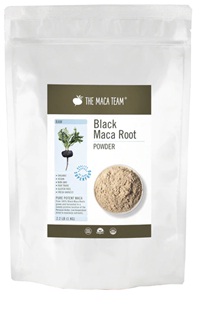 100% Black Maca Powder
USDA Certified Organic
100% Raw – Never heated above 40 C (115 F)
Fair Trade
GMO Free
Vegan
Details:
Black Maca is the best type of Maca for muscle building, stamina, strong bones, mental focus, improved mood, male fertility and male libido
High in carbohydrates (59%) for sustained for increased, sustained and balanced energy and high in bio-available protein (10.2%) that supports healthy, natural muscle growth
Contains 17 amino acids, 23 free fatty acids and 4 unique glucosinolates that support optimal hormone balance and health for men and women
Mineral rich with high levels of calcium, magnesium, phosphorus and iron to support bone density and heart health
2.2lb double lined sealed foil pouch contains 79 individual servings – enough to last one person nearly 3 months (works out to just 60 cents a day).
Best Used For:
Our Black Maca root powder has all of the major benefits of Cream Maca powder and is specifically indicated for male fertility and libido as well as for muscle building and endurance. Research conducted in Peru in 2009 indicated that Black Maca was the best of all Maca powders for increasing sperm count and motility. In addition we've had several reports from both male and female athletes that Black Maca is a favorite for increasing muscle mass and physical performance. Compare all of our Maca powders here.

Storage/Shelf Life:
Store out of direct sunlight and in dry conditions. Black Maca keeps well for up to 24 months.
Suggested Use:
Black Maca is classified as a food rather than a supplement or herb. There are no known contraindications or side effects related to taking it. Daily dosage recommendations range from 8 -12 grams (1-3 teaspoons) for a healthy individual weighing about 160 lbs. Black Maca may be taken with water, juices or milks. It also may be mixed with food.
Shipping - U.S. and International

We strive to offer the best deals possible on shipping and usually ship out USPS in North America. International orders ship out using USPS Global Priority Air Mail.
U.S .Delivery Times (2-5 business days.)
All other countries – (10-14 business days.)
You will receive a tracking number as soon as your order is shipped out - usually within 1 business day.
Order multiple products and save $ – shipping costs go up very little for orders of multiple KGs.
Payment:
We accept the following payment methods
Major Credit Card – Visa/MC/Amex/Discover
Paypal
Debit card
US Bank check and money order
Enjoy the day!