Premium Raw Black Maca
Premium Raw Black Maca Further Info
Our Premium raw black maca products come from fresh processed rather than sundried maca roots, are higher in some key nutrient contents and have a stronger and spicier than standard raw black maca.
What makes these products "premium?"
Both standard and premium raw black maca products are made from the same grade A black maca roots harvested by our farming co-ops in and around Junin, Peru. The difference is how these roots are processed. Standard maca products are made from roots which are dried in the high mountain sun for several weeks before being stored or processed into powder. This is the traditional way of preserving maca roots. By contrast, Premium maca products are made from maca roots that are processed immediately after harvest. This is a modern approach that was designed to standardize nutrient levels. In this process, maca roots, after coming out of the ground, are immediately transported, cleaned in a citrus solution, ground into a pulp and low temperature dried. This special fast processing leaves more glucosinolates in the final product.
The level of glucosinolates is standardized at above 1% in our Raw Premium Black Maca Powder and Capsules. For more information on the different processes see this article or have a look at the graphic below: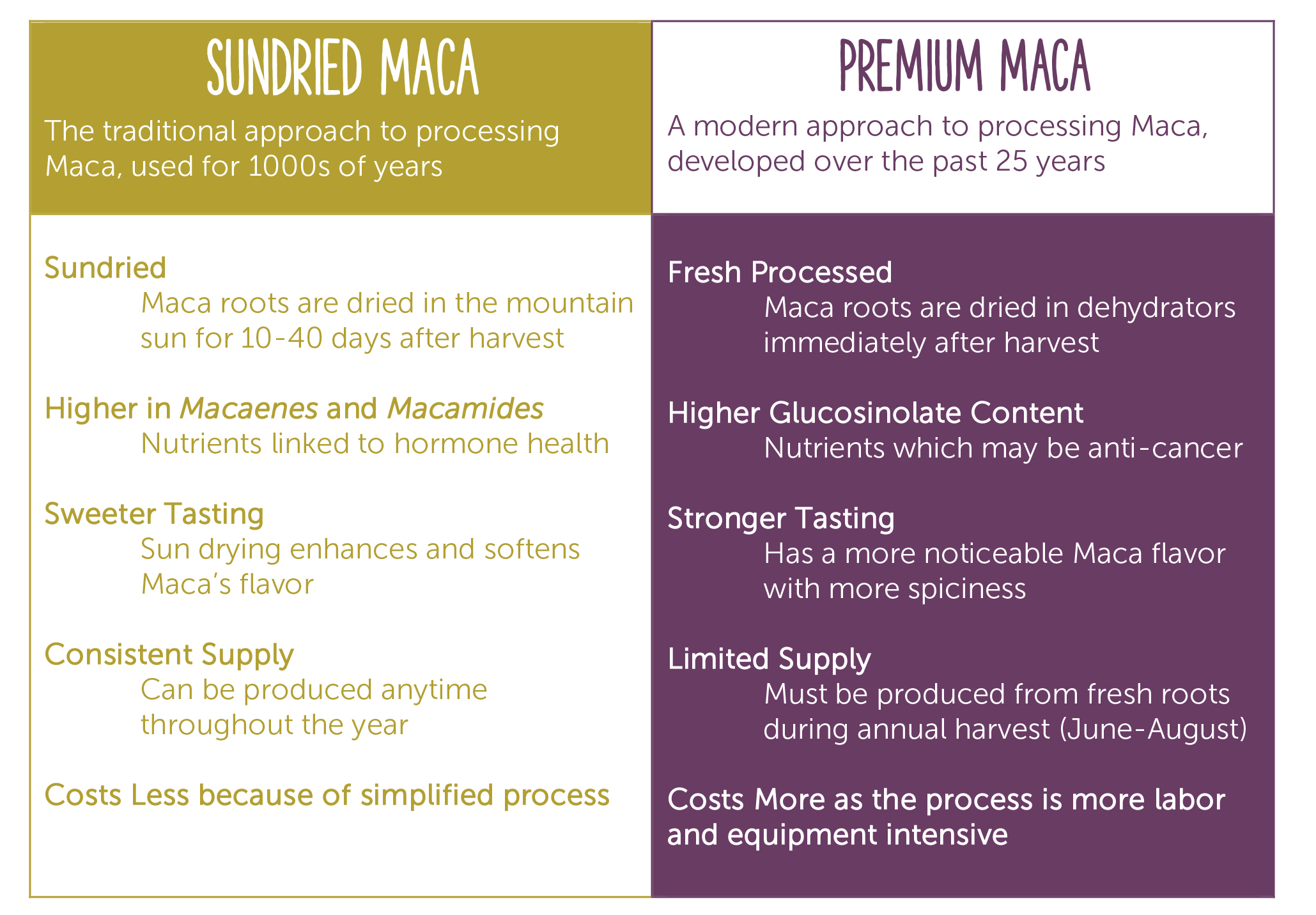 We recommend raw premium black maca for:
We typically suggest that people new to maca start with a standard maca product. This is mainly due to the strong taste associated with premium raw black maca products. Maca is part of the horse-radish family and products made with the premium process preserve more of a spicy flavor than sundried products. At the same time, premium products are somewhat more potent and fast acting.

Overall we suggest raw premium black maca for the following people
Men wishing to increase their fertility (we recommend Red Maca for female fertility)
Men and women wishing to boost their libido
Athletes, both men and women, looking for extra stamina and strength
Anyone looking to improve memory, concentration and focus skills with Maca
All people taking Maca to improve their bone strength and density
Our Premium Raw Black Maca Products Are:
USDA Certified Organic
GMO Free
Fair Trade
Never heated above 105F / 40C
Grown traditionally with respect for the land - near Junin, Peru
Fresh processed and packaged immediately
100% Raw and Vegan
Made from 100% Black Maca roots
And:
Come from a modern approach to processing Maca developed in the past 25 years
Are fresh Processed - Maca roots are dried in dehydrators immediately after harvest
Have higher glucosinolate content - nutrients which may help prevent cancer
Are much stronger tasting - have a more noticeable Maca flavor with more spiciness
Are limited in supply since it must be produced from fresh roots during annual harvest (June - August)
Cost more as the process is more labor and equipment intensive
The are Available in:
Premium Raw Black Maca root powder (3 sizes) -

Maca powder gives you more value for the dollar than capsules, but it is messier to use and requires that you take time to mix it into a recipe. We do have many maca recipes available. The powder is very fine and does dissolve well. Note: premium raw black maca powder has a strong maca flavor that some people do not like.

Premium Raw Black Maca capsules
We process our capsules carefully with great oversight. Unlike our competitors, they contain only 100% pure maca powder – no fillers, flow agents or additives of any kind are ever used. Taking our premium raw black maca in capsules makes it easier to get an exact serving size, avoids the need to prepare any type of recipe to consume your daily serving and avoids the relatively spicy taste of the powder. They are more expensive than the powder alone, but many customers find that the benefits outweigh the costs.
FAQs about Premium Raw Black Maca Root
What Makes Raw Black Maca "Premium?"
The word "premium" refers to the way maca roots are processed after harvest rather than a different grade or type of maca root. In this process maca roots are dried and made into a powder directly after harvest in order to help standardize nutrients in the final product. These products are limited in supply as they must be processed only during the annual harvest.
Does taking premium maca really make that much of a difference?
We have customers who get great benefits from both sundried (standard) raw black maca products and premium raw black maca products. We started offering the premium ones by request of several customers who note that they work more quickly and more effectively for them. While both are effective, we'd give an edge to the premium products. Also, since glucosinolates are higher and standardized in the premium products it may give more benefits specific to those nutrients than sundried.
What does raw premium black maca taste like?
If you've tried sundried black maca before, you'll know that it has a unique earthy caramel-like taste. Many people enjoy that taste while others do not care for it. Premium black maca maintains that taste but has a spicier edge to it. Some people have also described it as more bitter than standard maca.
Are there any disadvantages to selecting premium over sundried?
No. The only concern people raise is the taste. If you end up being sensitive to the taste of premium raw black maca, then we'd recommend getting either capsules (no taste) or sundried raw black maca instead. Benefits come from both.
Why is it more expensive?
There are 2 main reasons that premium maca products cost more than their counterparts. First, the initial processing requires more effort, is time sensitive and uses specialized dehydration equipment. Second, it is only made one time per year (during harvest times) and therefore made in smaller batches that must be stored for a bit longer.
If you have any questions please let us know. And as always, remember that you can always count on The Maca Team, for certified organic, fair trade, fresh harvest Peruvian maca products.
Shop Premium Raw Black Maca Now