Posted by The Maca Team on 10th Dec 2020
Menopause can be a daunting time for many women who experience problematic symptoms such as hot flashes, body aches, and headaches. Learning to navigate through this period of bodily change and having ways to effectively deal with the symptoms is important.
Maca root capsules may be one way to help deal with some of the symptoms related to menopause, as well as other issues involving hormonal balance. If you are unfamiliar with maca, it is a root vegetable native to the Peruvian Andes that has recently exploded in popularity due to its high nutrient content and possible health benefits associated with it.
If you are looking for information in regards to menopause and the possible benefits of maca root, you're in the right place. The first step is knowing which of the three primary maca varieties is best suited for potentially dealing with the symptoms of menopause. We'll also cover some of the reasons why maca capsules in particular are probably your best choice if you are searching for a simple solution that you can easily incorporate into your lifestyle.
Understanding the Different Varieties of Maca
Maca is the world's highest growing food crop and has been used for thousands of years as a staple food source in Peru as well as a mainstay in traditional medicine. It is prized for its high nutritional value, as this root vegetable contains a powerful combination of antioxidants, plant sterols, vitamins, minerals, amino acids, and other essential nutrients.
If you have performed any research into maca root, you have likely encountered a variety of different terms that would lead one to assume that there are different species of maca out there that have been grown for use. Terms such as "red maca" and "black maca" are common, yet do not actually refer to distinct species of maca. Every harvest of maca root naturally contains different colored roots, which appear the way they do likely because of the unique nutrient ratios present in the skin.
Whatever the case may be that contributes to maca's different appearance, it has been recognized that the different colors of maca may have slightly different properties, which come into play if you are intending on using maca for potential health purposes.
In general, it would appear as though red maca has the best general effect when it comes to hormonal balance for women. If you are interested in taking maca root capsules for menopause, this is the color you want to look for. Initial studies may indicate that maca root is effective at reducing the symptoms of menopause, which is great news for any woman looking for a healthy, safe way to potentially deal with this trying time.
Why Maca Capsules Are the Perfect Choice
There are several ways to enjoy maca root if you are interested in adding this healthy root vegetable into your diet. One of the most common ways is by using maca powder, which can be added to smoothies, coffee, and even a glass of water. The powder can also be added to a number of different baked goods and other foods in case you want to enjoy it that way.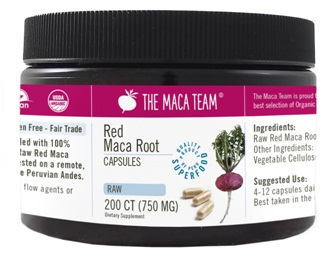 However, this method isn't for everyone, especially if you don't typically make smoothies or want to alter the taste of your morning coffee in any way. For anyone who doesn't feel like dealing with powders, high-quality red maca is also available in capsule form.
Maca pills have become fairly popular because they offer the same potential health benefits as maca powder but are far easier to manage. You can easily take maca root capsules with you on the go, whether you are at work, going to the gym, or out with friends. They offer a higher degree of convenience for most people when compared with maca powder.
Another reason why many people love maca capsules is that it is much easier to get a specific amount in one serving if that is important to you. While maca is not to be looked at as a supplement, so there is no need to be critical of the serving size you use, it is still easier to keep track of how much maca you are using and what feels like an optimal amount for you, if you are taking them in a pill form.
Where to Find Maca Capsules For Menopause
If you are interested in potentially managing your menopause symptoms by introducing a healthy vegetable like maca into your diet, you're in the right place. Our store here at The Maca Team has a great selection of fresh, high-quality maca products that are GMO-free, vegan, and packed with nutrients. We feature red maca capsules, as well as plenty of other maca root products that you can utilize to bolster your diet, including maca liquid extracts. If you have any questions about which product is best for your needs, don't hesitate to reach out to us at 888-919-8616.